We sell bat houses! An organic repellent against mosquitoes!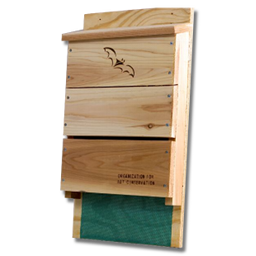 At Hudson Valley Wildlife Solutions, we custom build bat houses made of hemlock trees that is from a local lumber yard. Along with our special bat attractant, with luck, you will have a small roost of bats that will keep your mosquito population down to a minimum.
The dimensions of the bat houses we sell are 24″ tall and 13″ wide. This will allow between a dozen to 30 bats a peaceful roost during the summer months.
Upon your request, we can also build any size bat house that you desire. If you require us to install the houses, our crew is equipped with a 40′ ladder to place it at any tree that you seem fit for your bat roost.
Standard size bat houses start at $24.99+ tax/ shipping/ handling. If you wish to have us to install one for you, our price is additional $99.00+ tax. You must live within our service area for the installation of the bat houses.