Nuisance Wildlife Removal in Catskill, NY
Catskill has many types of nuisance wildlife, such as bats, squirrel and skunks. The the river that runs through the town, and garbage that is left on the ground is advantaged as food resources. Also, Bats fly around the river looking for insects to consume while the skunks, squirrels and raccoons eat whatever is available to them around dumpsters and garbage cans.
Bat Removal in Catskill, NY
We provide bat removal and control on many houses throughout Catskill, NY. The bats usually roost around the perimeter of the chimney and in the attics. The cool temperature around the chimney provides them a way to regulate their body temperature during the summer. They will then roost in your attic for protection against predators such as owls or raccoons.
Squirrel Removal in Catskill, NY
Squirrels are very plentiful in Catskill. We are professionals at getting rid of squirrels from your attic. Whether they are chewing through your soffits of finding their way into the basement, these rodents are no match for your trapping methods. We install traps directly over the entry point for a 100% trapping rate. Learn more about squirrel removal in Catskill, NY.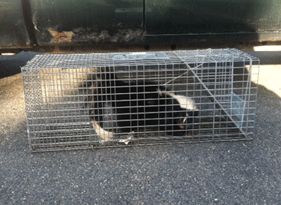 Skunk Removal in Catskill, NY
Skunks are very popular around town, especially at night when they are active the most. Our traps are pre-scented with previous captured skunks, which in turn will capture their curiosity and eventually capture themselves. They are typically very docile and will not come and attack you. Just remain calm and steady and leave the premise. Never act aggressive toward a skunk, or it will surely spray you.
Contact and Hours for Wildlife Removal in Catskill, NY
We have been serving Catskill for a while and understand how to be effective and effective in solving your wildlife issue. Please give us a call whether it being a bat in your bedroom or a skunk living under your deck. We can handle it all, guaranteed! Our hours of service is 24 hours, 7 days a week. You can call us at 855.767.2287 or 855.SOS.BATS. You can also email us at [email protected].
Let us help. Contact Hudson Valley Wildlife Solutions today!