Tendencies and Symptoms of a Squirrel Problem:
If you suspect you may have a squirrel issue in your home, here are some things you can look for. Chew marks are always a good sign that you're dealing with squirrels. You may find chewing on attic rafters and framing, wires, or holes chewed in to the side of the house, usually around the soffit and fascia area. You may even hear them chewing when the house is quiet. Squirrels chew constantly to keep their teeth short and sharp. You may also hear foot traffic skittering across your ceiling or in the walls. Look for large caches of nuts, acorns, or pine cones; large disturbances in insulation, or even urine stains in your ceiling. If a problem has been existent long enough, you may even detect odor from urine and feces.
Motives:
Depending on the species and sex of squirrel you are dealing with, you may have one or multiple. Male gray squirrels will generally dominate a nesting area and maintain a bachelor pad. They use this as shelter from elements like cold and rain, to store food, as well as protection from predators.
However, if you have flying squirrels, chances are you're dealing with multiple. Flying squirrels are community nesters, and are often described as sounding like a "party of squirrels" in your attic. These squirrel communities will utilize your home as the bachelors do for shelter, food caching, and protection, but also the "safety in numbers" aspect allows them to utilize your home as a place to cooperatively rear young. You can learn how we removed flying squirrels in Postenkill, NY here.
Risks:
As mentioned above, squirrels chew constantly to keep their teeth short and sharp. They would prefer to chew something hard like the framing in your attic, but often attached to the framing is the electrical wiring for your lights and outlets. Although it is often not their intention, squirrels have been known to chew through electrical wiring. Not only can this cause you to have costly repair bills, but this can potentially become a very dangerous fire hazard. Chewing can also cause damage to the structural integrity of your home. Another thing to be concerned with is the damage that urine and feces can do. Many times squirrels will ruin insulation, stain sheetrock, and develop odors that can be very difficult to alleviate. Furthermore, these odors can emanate from your home and attract not just more squirrels, but squirrel predators like raccoons. Many raccoon issues start out as a squirrel infestation; the raccoons come in, kill and eat the squirrels, and take over the now vacant cavity. It is always in the interest of the homeowner to nip a problem like this in the bud, to prevent it from growing out of control.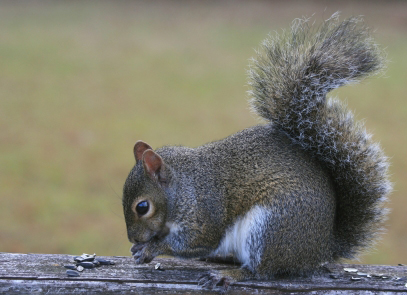 Squirrel Removal:
We are trained to employ a variety of methods of squirrel removal to deal with your individual problem. We use humane trapping methods, and exclusion to rid you of your unwanted guest. We utilize time tested methods for prevention of the problem. Generally, we patch any secondary holes in your home to establish a "forced capture" scenario at the main entry points. We install traps directly over the point of entry when the animal is inactive, and check and maintain the traps daily. Once we are confident that all of the squirrels have been removed, we can patch up the main holes and seal everything off permanently. We offer multi-year guarantees on the whole structure of your house, so if you ever have another issue we're there to rectify it. If they come back, we come back, free of charge.
Clean-up/ remediation:
After the removal of squirrels, many clients experience lingering odors or structural damage. We offer a chemical disinfection to deodorize and sanitize the area. This will alleviate the odor for your comfort as well as to prevent curious neighboring wildlife from investigating. If odors have seeped into the structure, or physical damage has occurred we are prepared to remove the insulation, framing, sheetrock or whatever else may be damaged or scented, and replace them with competent carpentry.
Long term outlook:
Squirrels can be both persistent and aggressive. And, because odors can attract new squirrels and predators great care must be taken to make sure an issue is handled completely, effectively, and permanently. Otherwise, squirrels can have very high reinfestation rates. However, with our training and experience, and multi-year guarantees, you can rest assured that your problem will be under control for years to come.
You can read about more about gray squirrel remediation here.
Albany, Athens, Averill Park, Ballston Spa, Ballston Lake, Bearsville, Berlin, Brunswick, Cairo, Canaan, Castleton-On-Hudson, Catskill, Clifton Park, Cohoes, Colonie, Copake Falls, Craryville, Delmar, East Greenbush, Elizaville, Freehold, Gallatinville, Germantown, Ghent, Glenmont, Glenville, Halfmoon, Hannacroix, Hillsdale, Hudson, Hyde Park, Latham, Loudonville, Malta, Mechanicville, Milan, Nassau, Niskayuna, Old Chatham, Poestenkill, Ravena, Rensselaer, Red Hook, Rhinebeck, Rotterdam, Saratoga Springs, Saugerties, Schenectady, Scotia, Selkirk, Slingerlands, Tivoli, Troy, Waterford, West Sand Lake, Windham, Woodstock, Wynantskill
Let us help. Contact Hudson Valley Wildlife Solutions today!