Professional, Guaranteed Bat Removal and Control
In the event of an emergency:
1. Remain calm: A calm demeanor will help reduce stress on the bat and encourage it to settle down
2. Isolate the bat: To the best of your ability, try to confine the bat to a room or even a floor of your house. Close doors and windows, and place a towel or a length of duct tape at the bottom of the door
3. Call Hudson Valley Wildlife Solutions 24/7 at 518-512-0400 OR our toll-free emergency line at 855-SOS-BATS (855-767-2287) OR fill out our contact form online.
4. Stay clear of the area: A bat that is trapped or has lost its way can be very unpredictable and may be prone to erratic flight, and sudden bursts of energy.
Tendencies and Symptoms of a Home Bat Problem:
More often than not, bats will tend to roost in your attic, however, they have been known to inhabit walls and basements. There are a few things to look for to identify that bats are the culprit you are dealing with. The clearest indication of a bat problem is guano, or bat droppings. Guano will appear as a long black grain of rice that, when smeared, turns to a dusty consistency containing luminescent specks. (These specks are actually remnants of the exoskeletons of the mosquitoes the bats eat every night.) Other things to look for with a bat problem are yellow stains on the ceiling, foul odor, stained siding or chimneys, or scratching, flapping, or squeaking noises from the area in question.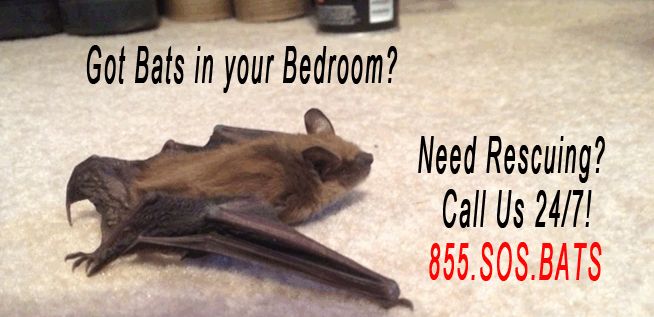 Why Bats Like to Move into your House:
Bats generally exist in two types of colonies: bachelor colonies and breeding colonies. Generally males will seek out new cavities to inhabit alone. If bats are a new problem in your home, chances are you are dealing with a small number of bachelors who are developing your home into what will eventually become a breeding colony. Bats use their roost primarily for protection from predators, as bats are essentially defenseless. Additionally, your home will provide shelter from the elements, and a space for hibernation, mating, and rearing of young.
Risks Associated with Bats in your Home:
Clearly the greatest risk to you and your family from having bats in your house is the threat of rabies, histoplasmosis and other diseases. Most researchers agree that the occurrence of rabid bats in a general population is relatively low, with most estimates being well under 5%. That being said, there is still a chance, and that's not something most of us are comfortable with.
Furthermore, problems like these will not go away in time. The life span of a bat is up to 20 years in some cases. Big-brown bats are capable of overwintering in your house, while little-brown bats will be looking to return each spring to mate, and rear new young. In turn, as the young are born, the population will grow, and so will your problem, resulting in accumulations of guano and urine. Bat guano and urine are very acidic and over time not only can deteriorate insulation and framing, but also can serve as a catalyst in the process of oxidation on the nails, screws, and metal flashings around your house.
Our Bat Removal is Guaranteed:
We use simple but effective "exclusion" techniques to humanely rid your home of your bat problem. With little means to defend themselves, bats become very adept at hiding in small nooks and crannies, and can be impossible to find. Rather than try in vain to capture each individual bat, we provide the means for bats to exit your home in search of food, but make it impossible to reenter when they return.
This "one-way door" method is the most beneficial to all parties involved. Your home is vacated of bats, and the bats are not relocated. Relocating bats will cause them to suffer as a result of the difficulty in finding food, water and shelter in an unfamiliar place. Relocation may also displace the local bats in that area, and potentially spread diseases like the white-nosed syndrome that is currently decimating bat populations.
Once we are confident the removal process is completed and all the bats are gone, we can permanently seal your house to prevent future bat entries. With competent carpentry, and a little ingenuity, we are confident enough to offer multi-year guarantees on all of our bat work. We want to solve your problem, and prevent it from ever happening again.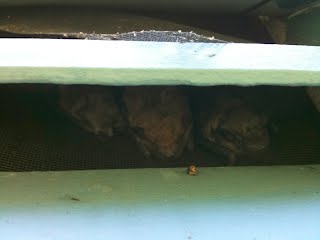 Clean up and Remediation of Bat Infestation:
Some cases where bats have been around long enough or have done enough damage will require follow up services. Guano left behind may carry airborne parasites and diseases, have a foul odor, or possibly have deteriorated insulation and framing. Clean outs may be as simple as vacuuming a few spots in the attic where guano is localized, or as in depth as removing and replacing all of the insulation. We are experienced in providing clean out services for guano and urine, as well as in repairing any sections of the structure that may have been compromised. 
Odor from bats is not only unpleasant, but also may spur the curiosity of other bats and their predators. We use a liquid sanitizer and deodorizers to eliminate any pathogens and to reduce odor. Additionally, replacing deteriorated insulation will help to conserve energy in your home, and save you money on your heating bill.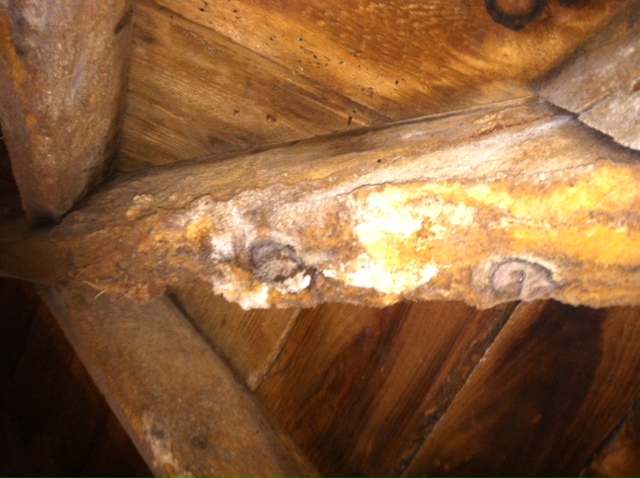 Long Term Results:
Effective bat removal is best left to professionals. A bat is capable of fitting through a hole 3/8″ wide by 1″ long. Even the best in the business will sometimes miss the tiniest crack in your soffit and then you're back to square one. However, with our meticulous attention to detail and written guarantee, you can rest assured for years to come that your problem will be solved.
Albany, Athens, Averill Park, Ballston Spa, Ballston Lake, Bearsville, Berlin, Brunswick, Cairo, Canaan, Castleton-On-Hudson, Catskill, Clifton Park, Cohoes, Colonie, Copake Falls, Craryville, Delmar, East Greenbush, Elizaville, Freehold, Gallatinville, Germantown, Ghent, Glenmont, Glenville, Halfmoon, Hannacroix, Hillsdale, Hudson, Hyde Park, Latham, Loudonville, Malta, Mechanicville, Milan, Nassau, Niskayuna, Old Chatham, Poestenkill, Ravena, Rensselaer, Red Hook, Rhinebeck, Rotterdam, Saratoga Springs, Saugerties, Schenectady, Scotia, Selkirk Slingerlands, Tivoli, Troy, Waterford, West Sand Lake, Windham, Woodstock, Wynantskill
Let us help. Contact Hudson Valley Wildlife Solutions today!