A Secure Bat Removal in Colonie, NY
If you think you may have a bat problem in your home, it is crucial to address the issue immediately. The impact of a bat colony gets worse and worse over time. It can cause significant damage to your house's structure and even expose you to disease. At this house in Colonie, New York, the owners had ignored signs of a bat infestation for years. It took a lot of work to take care of the problem, but Hudson Valley Wildlife handled it from beginning to end.
Signs and Symptoms of a Bat Infestation
You will usually find bats inhabiting your attic, although they may also roost within the walls or in the basement if there is an entry point. You may hear scratching, flapping, or squeaking noises above your head or within the walls. Bats are essentially defenseless, so these enclosed spaces offer them excellent protection from predators, as well as shelter from rain and cold temperatures.
Deposits of guano, or bat droppings, will accumulate within these dark spaces. You may also find deposits on the ground outside the home or on roof tiles. The small, dark pellets crumble into dust when touched. It is very dangerous to allow guano to accumulate in and around your home. The deposits often lead to fungus growth, which can cause severe respiratory problems. Guano also creates a foul odor and yellow stains on walls and ceilings.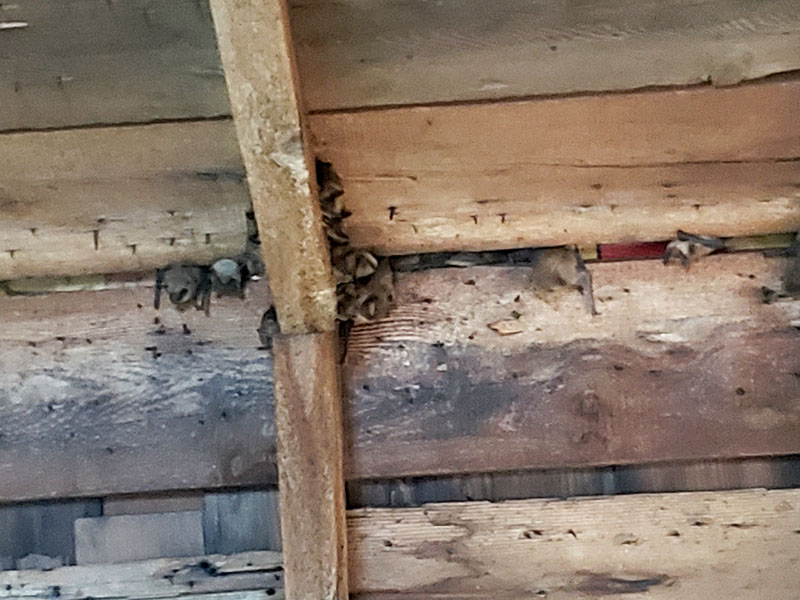 These homeowners in Colonie had noticed the sounds of bats in their attic but ignored them for a long time. They did not contact Hudson Valley Wildlife about the issue until a bat flew in on them during movie night at home. We went to inspect their home and found a large breeding colony in the attic. There were dozens of bats huddled together, hanging from the ceiling, and deposits of guano covering the floor. You should never let a problem linger this long!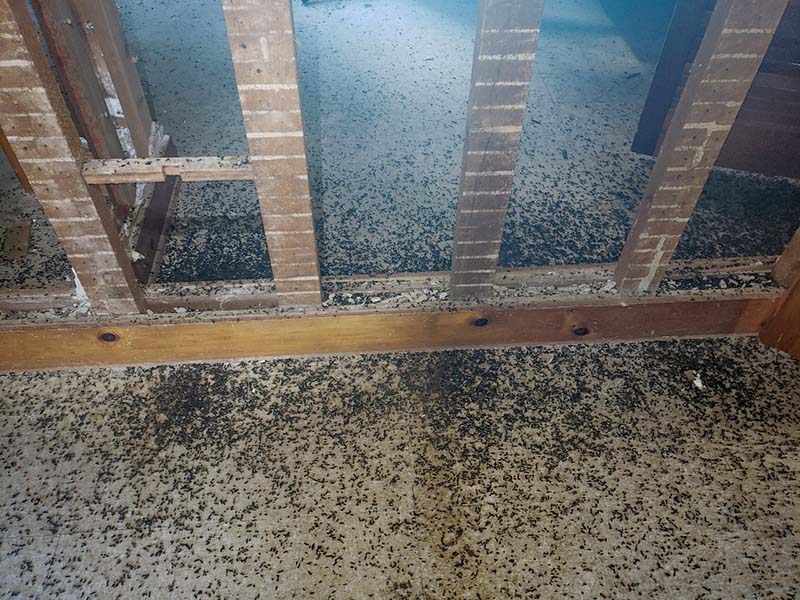 Common Causes of a Bat Problem in your Home
In Upstate New York, bats will usually live in either a bachelor colony or a breeding colony. When a male bat reaches adulthood, it will leave the breeding colony and seek out a secure space to make a new home. If bats are a new problem in your home, you most likely have the beginnings of a bachelor colony. A few male bats are likely creating a home in your attic, and this should be addressed as soon as possible.
If you do not remove the bats, the bachelor colony will become a breeding colony. Female bats will move in and create space for hibernation, mating, and rearing of young. As the bat population grows, the damage to your home will continue to accumulate. This attic in Colonie had become a full-fledged breeding colony. We had to address the problem quickly to prevent further health risks for the homeowners.
Risks and Dangers of a Bat Infestation
Bats can bring serious health risks to you and your family. While rates of rabies in bats are generally low in and around Upstate New York, the potential risk is too serious to not take action. In addition, the histoplasmosis fungus that grows on bat guano deposits is also a health hazard. It can get into the air in your home and cause serious health problems in humans.
Bat guano and urine are also very acidic, which causes damage to your home's infrastructure. The acid can deteriorate the building materials and insulation within your home. It may also cause oxidation on the surface of metals used in the house's framing. If you suspect bats are making a home in your house, protect your living space (and investment in your home) and call Hudson Valley Wildlife to check for damage, remove any bat colonies, and mitigate residual bat problems.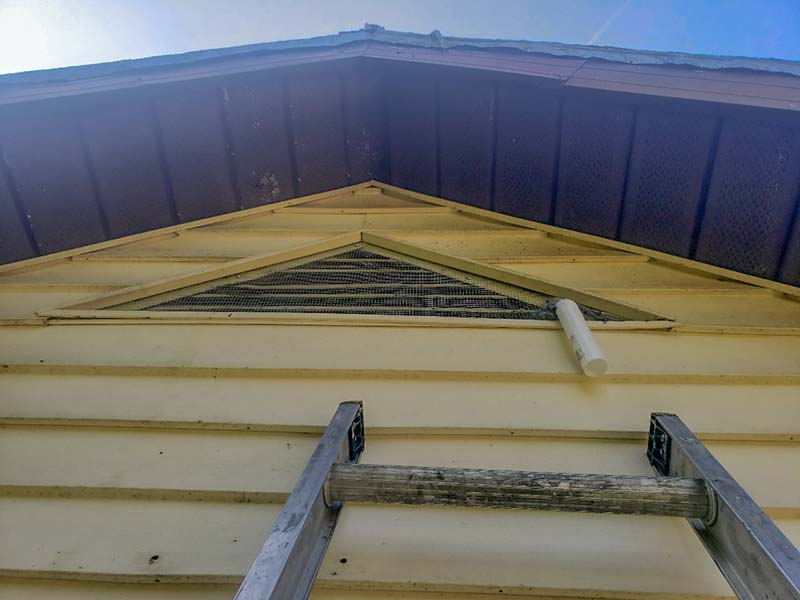 How Hudson Valley Wildlife Handles Bat Removal
Bats are especially adept at hiding in small nooks and crannies, so typical trapping and removal methods are not as effective as with other species. Relocating bats can also be harmful. They may struggle to create a new home or displace another local bat population, even spreading diseases. Our "exclusion" technique is the most efficient and humane way to remove bats from your home.
This technique begins with a thorough inspection of your home's exterior, to search for potential entry points. Some species of bats can fit through holes as small as 3/8″ wide by 1″ long. We seal all the holes except one and install a "one-way door" in that exit point. This allows the bats to leave your home for food, but they will have no way to reenter. The bats will all leave the colony in time, and make a new home nearby.
Our Colonie homeowners had many unprotected entry points into their attic. We installed a layer of mesh over a vented window to prevent bats and other small animals from using it as a doorway. There were also some holes around the sides of their chimney that we sealed with metal panels. We installed the one-way door, and soon the bats began to exit the attic.
Once we are certain that all the bats have left through the one-way door, we will seal that final entry point. This protects your house from future infestations of bats or other predators.
Cleaning Up from a Bat Problem and Long Term Results
Depending on the amount of damage left by the bats, we may have to make follow-up visits to complete the cleaning process. We thoroughly disinfect and deodorize guano deposits and urine stains so they do not attract new bats or their predators. We also inspect the nearby framing and insulation to see if anything has deteriorated. A fresh new layer of insulation will help to conserve energy in your home and save you money on your heating bill.
Bats can be an especially difficult animal to deal with inside your home. For the safety of your family, turn to a professional who can take care of both the infestation and repairs to your home. You can count on Hudson Valley Wildlife's meticulous attention to detail to remove the bat colony from your attic and prevent its return. We proudly offer multi-year guarantees on our bat exclusion and prevention work to keep your home safe from damages and to prevent bat-caused diseases from impacting your family.
Albany, Athens, Averill Park, Ballston Spa, Ballston Lake, Bearsville, Berlin, Brunswick, Cairo, Canaan, Castleton-On-Hudson, Catskill, Clifton Park, Cohoes, Colonie, Copake Falls, Craryville, Delmar, East Greenbush, Elizaville, Freehold, Gallatinville, Germantown, Ghent, Glenmont, Glenville, Halfmoon, Hannacroix, Hillsdale, Hudson, Hyde Park, Latham, Loudonville, Malta, Mechanicville, Milan, Nassau, Niskayuna, Old Chatham, Poestenkill, Ravena, Rensselaer, Red Hook, Rhinebeck, Rotterdam, Saratoga Springs, Saugerties, Schenectady, Scotia, Selkirk Slingerlands, Tivoli, Troy, Waterford, West Sand Lake, Windham, Woodstock, Wynantskill
Let us help. Contact Hudson Valley Wildlife Solutions today!