5 tips to Prevent Squirrels and Bats From Entering your Home!
Most people feel they will never have a problem with wildlife until they hear a noise above their heads at 2-o-clock in the morning. The constant scratching and running around of critters will give people sleepless nights, prompting them to bang on the ceiling and walls. In this article I will give a few tips onto identifying areas where most wildlife gain access to the attic as well as sealing the home with materials from any local hardware store.
Wildlife Control and Prevention
The most obvious area to look for is the attic vents. Ventilation is important for the attic to allow the house to breathe. The air movement flows throughout the attic to prevent condensation build-up, but unfortunately attracts wildlife, such as squirrels to enter, especially during the cooler months of the year. In this picture, you will see an over-hanging tree leaning towards the attic vent.
Solution: Cut off the traffic leading to the attic by pruning the branches. Leave a distance of 10' from the tree to the attic vent, since squirrels are able to jump long distances. The next step is to screen off the attic by installing a hardware cloth mesh over the vent. This will prevent anything from mice to raccoons from barging through the wooden louvers.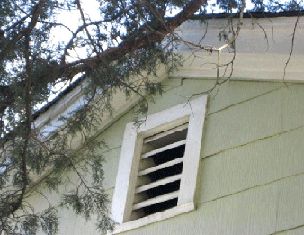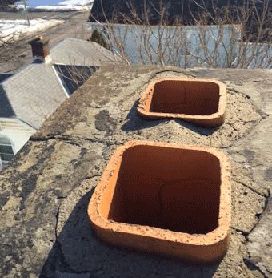 Wildlife, in general, must always maintain their territory by patrolling the perimeter and observing it from a high location. When a squirrel climbs upon your house to take a look throughout the area, they sometimes, unfortunately, fall down into the chimney eventually unable to climb back out. Chimneys consist of flues that connect to different places inside the house. One flue connects to the furnace where-as the other one leads to the fireplace. Flues that connect to the furnace often times has a damper that swings open in order to regulate the draft. This is where the squirrel would find their way into the basement and ultimately becomes stuck until you have to call a wildlife removal specialist to trap out the frantic squirrel. Raccoons on the other hand will seek out chimneys to live inside them.
Solution: The easy answer is to install a chimney cap on top of the flue. This will permanently solve any sort of animal from entering down into the chimney. Chimney caps come in different styles and shapes. Just measure the dimensions of the flue and go to your local hardware store to purchase the correct size. Many of them are easy to install, where it screws right into the flue for a tight and secure fit.
3. Problem: Utility Lines
Any sort of utility lines such as electrical cords or hoses that lead into the foundation of the house usually are highways for rodents to enter as well. They occur when the builders of the house or installers of a new air conditioning unit drill a hole into the house. They must create a hole that is big enough for the fitting or fixture of the utility line to fit into the house but forget to fill the gap after they complete the installation. When animals feel the draft of warm air that emits out of the house, they will want to gain entry by crawling and chewing their way in. Notice the damaged wires from the rodent left behind.
Solution: Before you go ahead and seal the hole, make sure nothing is living in your house before you seal them in. If you do, you will later regret it since whatever is living inside might die and rot in your walls. Be sure to call a wildlife specialist to trap them out.
In order to monitor if an animal is living in your walls, insert tissue paper, or see if there are cobwebs inside the hole. If there are, seal the hole with steel wool and secure it with caulk. The wool will prevent the animal from chewing through and the caulk will prevent any sort of air from passing through, which can attract animals from sneaking in.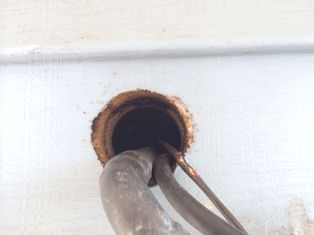 4. Problem: Decks, Sheds, and Porches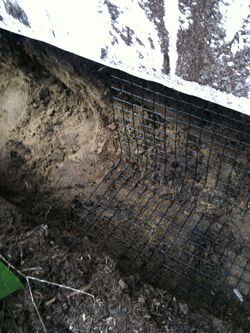 All wildlife requires food, water, and shelter. Under your deck, shed and porch are excellent places of shelter for wildlife such as skunks, woodchucks, and raccoons. These animals have adapted strong claws, which can dig through the ground with ease. As they meander into your yard undetected, they will come to find out that your deck or shed can provide a dry place to burrow. If skunks invaded your deck, you will notice their presence in no time.
Solution: This might take a strong back to perform, but the end results are rewarding. It takes a day's worth of digging and trenching to prevent these critters from taking over your porch. You would dig a foot deep and make the trench a foot wide in order to install screening to protect animals from entering your property. The screening needs to be in the shape of an "L". Once placed, screw the top of the screening to the deck and fill the dirt on top of the screening. The animals will not figure out how to dig around the screening and are forced to use your neighbor's as shelter.
5. Problem: Roof Intersections
Holes and cracks within trees are places where squirrels and bats usually find shelter. Whenever two roofs intersect on top of a house, a gap is normally found. Animals will naturally find these holes and will think nothing different as if your house is just another but differently shaped "tree". If animals are finding their way into the crack, you will see rub marks or feces dripping out from the area.
Solution: It might be a little tricky, but the use of a harness and ropes is required to seal up these types of holes. It's highly recommended to contact a wildlife professional who is an expert at climbing roofs and sealing holes.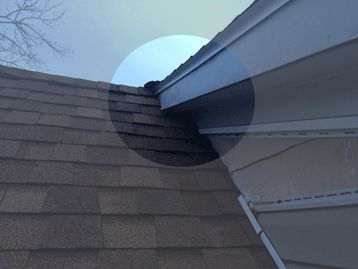 Overall, these are the main areas that wildlife can sneak into your house without you knowing. As you wildlife proof your home, always keep in mind that there only so many places that critters can gain access to your house. If you feel uncomfortable about heights or do not have access to extension ladders, at Hudson Valley Wildlife Solutions, we offer inspections to provide you with the most competitive quote to proof your home. We also provide guarantees for your peace of mind that the only ones living under your roof are you and your family.
Albany, Athens, Averill Park, Ballston Spa, Ballston Lake, Bearsville, Berlin, Brunswick, Cairo, Canaan, Castleton-On-Hudson, Catskill, Clifton Park, Cohoes, Colonie, Copake Falls, Craryville, Delmar, East Greenbush, Elizaville, Freehold, Gallatinville, Germantown, Ghent, Glenmont, Glenville, Halfmoon, Hannacroix, Hillsdale, Hudson, Hyde Park, Latham, Loudonville, Malta, Mechanicville, Milan, Nassau, Niskayuna, Old Chatham, Poestenkill, Ravena, Rensselaer, Red Hook, Rhinebeck, Rotterdam, Saratoga Springs, Saugerties, Schenectady, Scotia, Selkirk, Slingerlands, Tivoli, Troy, Waterford, West Sand Lake, Windham, Woodstock, Wynantskill