How To Tell If You Have Bats In Your House
Need help finding and removing bats from your home? Call Us 24/7: (518) 935-5708
Are you wondering how to tell if there are bats in your house? If you are suspicious that there is a bat living in your attic or walls, you should act quickly. A single bat in your attic can lead to a large colony developing over time. Both the bats and their droppings can create a major health hazard for your home and family.
At Hudson Valley Wildlife, we have many years of experience identifying and removing bat infestations from Upstate New York homes. After a thorough inspection, we determine whether you need to address a bat problem immediately, or if you have some time before the problem spirals out of control. If you are wondering how to tell whether you have bats in your house, here are some signs that you might want to give us a call.
What Does A Bat In Your House Sound Like?
No one wants to hear unexpected noises coming from their attic or within their walls. The sooner that we can figure out what is making the noises, the sooner we can act to find the solution.
It can sometimes be difficult to identify the cause of a sound coming from inside your walls. A squeaking wild animal can sound very faint and distant through your insulation. It may also be active and making noises at varying times. When we arrive at a client's house for a nuisance wildlife home inspection, we are often told, "as soon as you're here, they stop making the noises!"
One of our clients in Niskayuna, New York, captured the above audio of a bat inside his walls. Around 10:30 PM, he heard a faint sound coming from his bedroom and began recording along the walls. He identified the sound as coming from inside the wall that was exterior on one side. As bats are nocturnal animals, you are more likely to hear one in your walls at night.
A sound coming from inside your walls is far more likely to be a bat than another wild animal, such as a mouse or squirrel. While other animals use insulation to climb from a house's foundation to the attic, they tend not to nest within the walls themselves. Squirrels, mice, and other small mammals need flat surfaces to sleep on, like how we humans sleep in beds. But bats like to suspend themselves in the walls. They will "hang out" and sleep hanging upside-down from their feet like they do in the wild.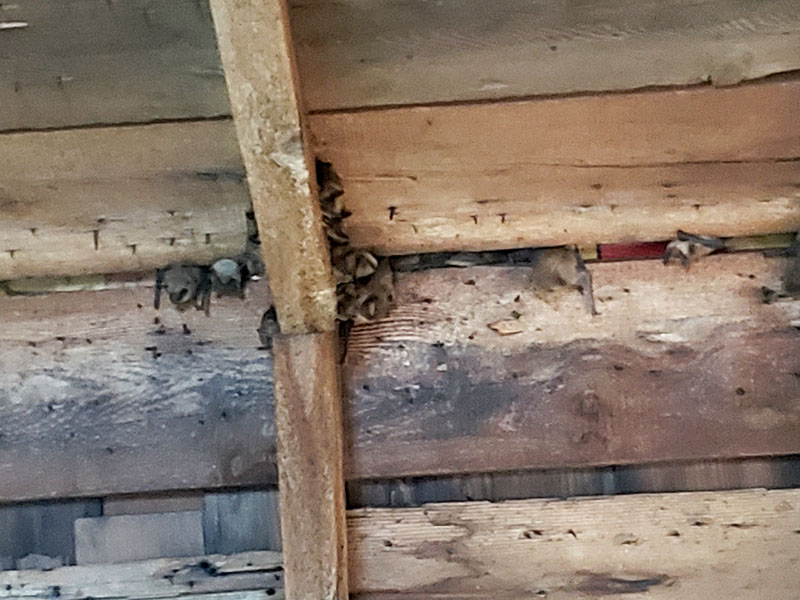 Do You See Bats Flying Near Your House?
If there is a colony of bats in your attic, you will likely see them flying around outside if you look at the right time. An hour before sunset or late at night, go outside with a flashlight or point a spotlight from your window. If there are a few bats flying around, the entrance to your attic is probably close to their flight paths.
Juvenile bats will practice flying by taking short flights in and out of the attic. Over time, their wing strength improves and they adapt to their environments. Just as frogs are not the best swimmers or walkers in the animal kingdom, but are capable of doing both, so are bats not the best at flying and walking, but can do both. Bats are surprisingly clumsy and can get lost very easily. This includes inside your home – sometimes they crawl into a room where they shouldn't be!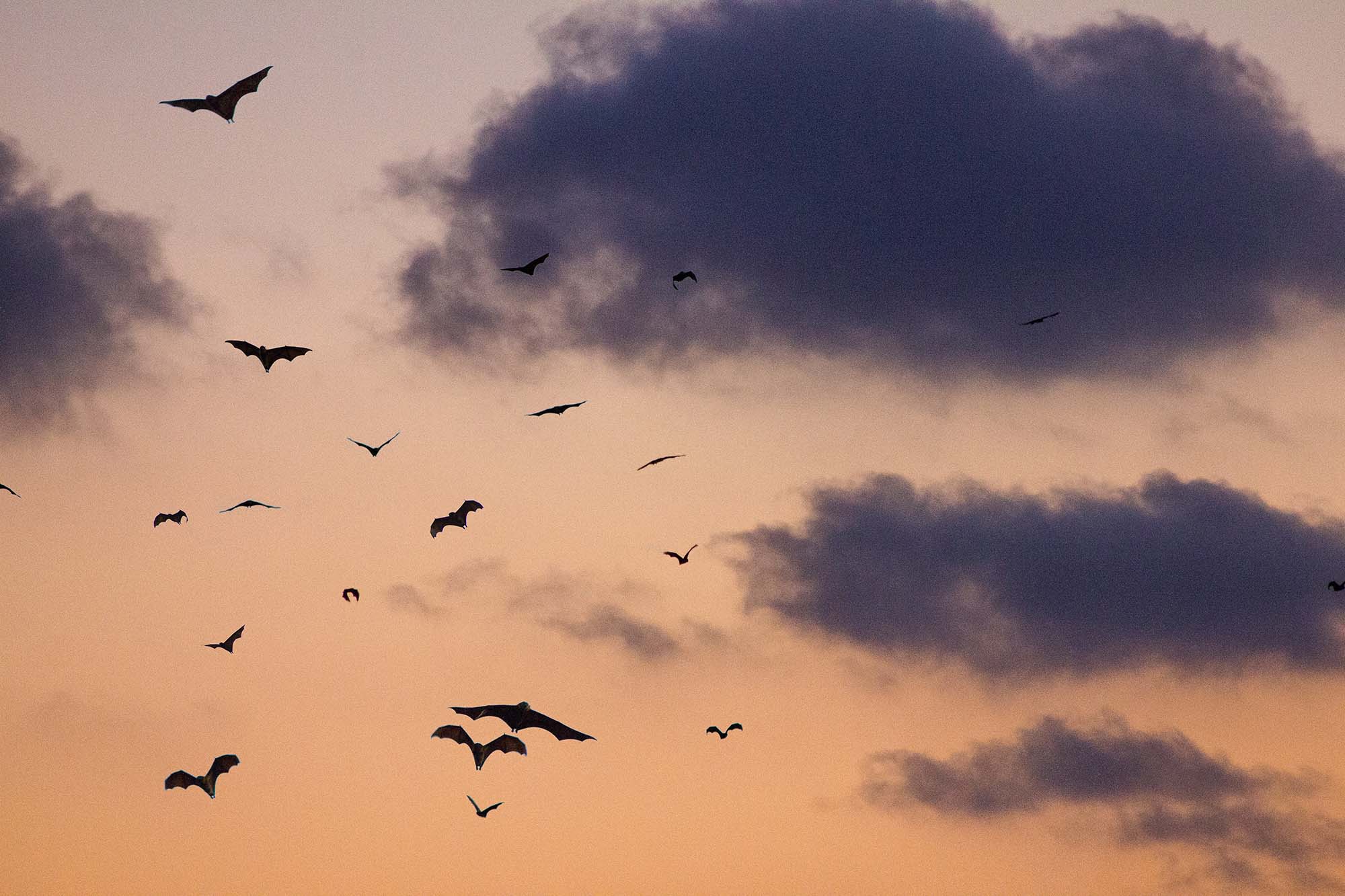 Symptoms of a Bat Infestation In Your Home
If you do hear a bat in your walls or see them flying in and out of your attic, you must address the problem as soon as possible. An infestation usually starts as a bachelor colony with a single bat, but over time, other bats are drawn in. Before you know it, your attic becomes a breeding colony and the damage to your home multiplies daily. The problem will only get worse, especially if the bats end up hibernating in your house.
Attic insulation gets all messed up by the bats as they work their way through your insulation. Bat guano is also acidic and can rot out the insulation. If we determine there is only one bat and no guano buildup, you can wait a bit before acting. If you wait too long though, the amount of guano buildup will be a huge problem. Insulation cleanup can cost thousands of dollars, and large quantities of bat feces can make you sick. We have been to houses where people do not address a bat problem for years. Some farmhouses have a foot of guano above their head! Schedule an inspection ASAP – don't wait until it's too late.
Hudson Valley Wildlife Removes Bats From Your Home
In the above video, we identified the bats' entry and exit point from the house as the attic vent. Over time, the bats had worn a large gap between the vents. We screened over the vent and added one-way door pipes on so the bats could exit the attic but not reenter. Over time, all the bats will exit through the vent and find a new home in the wild. Once we have confirmed that all the bats are out of the house, we go in and clean out the bat guano from the attic.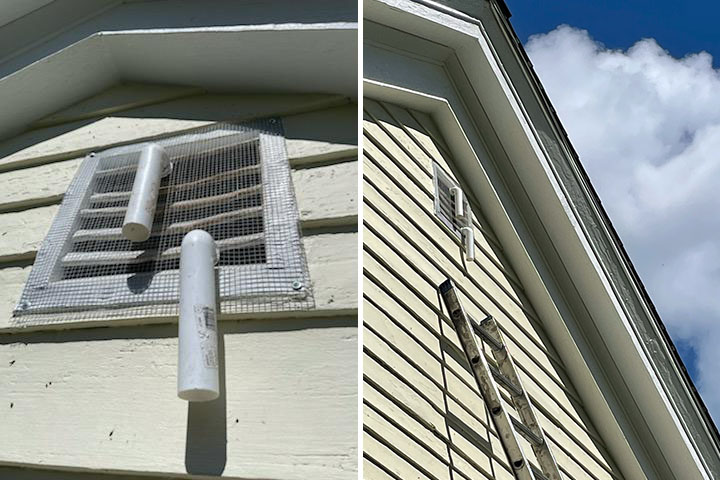 It takes time for a one-way bat removal door to clear out a large colony of bats from your home. Contact us as soon as you are suspicious there might be a bat in your house. We will complete a thorough inspection and let you know the best path forward. Our attic cleanup services are sometimes covered by homeowner's insurance as well. Be sure to ask your provider!
Click here to read more about our bat removal services.
Hudson Valley Wildlife provides bat removal solutions

throughout New York's Capital Region and Upper Hudson Valley, from Woodstock and Rhinebeck all the way up to Saratoga Springs. Contact us today for help with bat removal, or for emergencies, call us 24/7 at 518-512-0400.
Albany, Athens, Averill Park, Ballston Spa, Ballston Lake, Bearsville, Berlin, Brunswick, Cairo, Canaan, Castleton-On-Hudson, Catskill, Clifton Park, Cohoes, Colonie, Copake Falls, Craryville, Delmar, East Greenbush, Elizaville, Freehold, Gallatinville, Germantown, Ghent, Glenmont, Glenville, Halfmoon, Hannacroix, Hillsdale, Hudson, Hyde Park, Latham, Loudonville, Malta, Mechanicville, Milan, Nassau, Niskayuna, Old Chatham, Poestenkill, Ravena, Rensselaer, Red Hook, Rhinebeck, Rotterdam, Saratoga Springs, Saugerties, Schenectady, Scotia, Selkirk Slingerlands, Tivoli, Troy, Waterford, West Sand Lake, Windham, Woodstock, Wynantskill
Let us help. Contact Hudson Valley Wildlife Solutions today!