Squirrel Removal in Historic Troy, NY
Conducting a squirrel removal in Troy, New York, and similar cities can present unique challenges. The historic, multi-story buildings need especially careful attention during the inspection and sealing of entry points. At Hudson Valley Wildlife Solutions, we understand the unique nature of squirrel infestation in urban areas in Upstate New York. We are experienced professionals prepared to find squirrels, trap them, and prevent them from returning to your building. Our attention to detail will help preserve the unique beauty of your building's architecture.
Why Do Squirrels Nest Inside Buildings?
Squirrels are considered "opportunistic omnivores," which means that they will eat nearly any edible substance they can find. In Troy, squirrels have a wide variety of potential food sources, from acorn and walnut trees to bird feeders, and even garbage cans. The compact city streets provide easy passage for squirrels to get from trees to your building. When they feel any heat radiating from an attic vent or other weak point on the exterior, squirrels may be tempted to find their way inside and make a nest.
On this building, the squirrel likely felt the warmth of a hot water pipe running alongside the wooden trim of this bay window. The heat would have prompted them to chew through a weak spot in the wood and began making a nest inside. A dark space within the walls of your home is much more attractive to squirrels than a colder nest outdoors in a tree. Once a squirrel's nest is removed, this trim will need extra attention and care to repair the historic detail to its original beauty.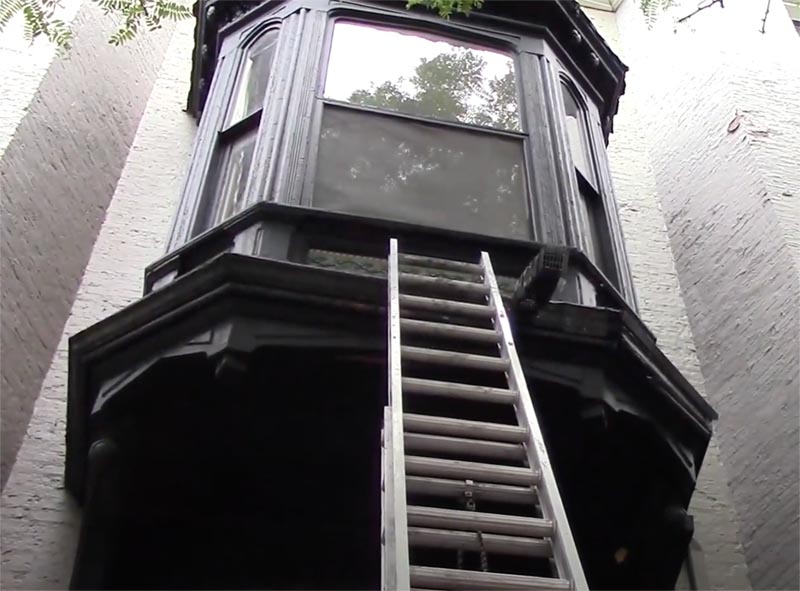 At first, we thought the infestation may have been a bird's nest, due to the location along the outside of the building. Upon closer inspection, we found some pieces of insulation piled up within the hole. Birds do not normally make nests out of pieces of insulation, so we began looking for other signs of wildlife. When we reached inside to remove the insulation, out jumped a squirrel, right at us!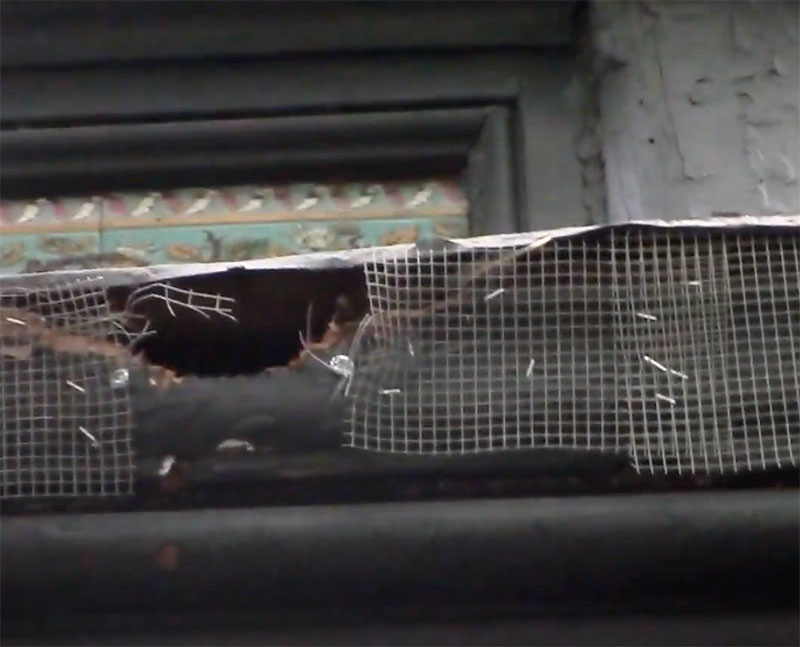 Potential Risks of a Squirrel Infestation
One squirrel in your attic or walls can quickly lead to several more. The scent of a female squirrel will often attract male squirrels during the breeding season. An increase in squirrel population leads to a rapid increase in noise and activity in the walls of your home, which will likely produce further damage. Squirrels chew constantly to keep their teeth short and sharp. They may chew into the wooden framing within your house or even the electrical wiring. If you think squirrels have invaded your home, avoid a dangerous fire hazard by calling Hudson Valley Wildlife for a thorough inspection.
Squirrels often create a latrine area as part of their nest, and the smell from the latrine will attract even more squirrels. If you do not address the problem soon, you could soon have an entire colony of squirrels to deal with. These odors, though unpleasant to humans, attract not only more squirrels but squirrel predators like raccoons, who eat the squirrels and take over the vacant area in your home. If you think you may have a squirrel problem, contact Hudson Valley Wildlife Solutions as soon as possible so we can address the issue before it grows out of control.
How Hudson Valley Wildlife Addresses Squirrel Infestations
We conducted a thorough inspection of the interior and exterior of this building in Troy, to ensure any and all entry points for the squirrels were accounted for. Buildings with several stories require special scrutiny because there could be hidden entry points that are hard to see from a ground level. We permanently sealed every vulnerable point except for the hole in the trim on the bay window, where there seemed to be the most squirrel activity.
We set a one-way squirrel trap extending out from the trim. These traps do not kill or injure the squirrels. They simply prevent the squirrel, once trapped, from returning to the nest inside your house and doing further damage. Our one-way traps are made from wire cages and wrapped in black plastic. We use smaller pieces of wire to attach the trap near the nest area and make it easy for the squirrels to go inside. We also added additional wiring to close up the broken trim around the nest. This would make sure the only direction the squirrels could go was into the trap.
The darkness created by the black plastic wrap helps calm the animals so that they feel they are still in a safe space. If a squirrel were trapped outdoors in the cage with sunlight shining on them, it would likely become extremely stressed. A squirrel would become confused and consistently try to chew its way out of the cage. It may also ram itself into the walls of the cage and possibly lose consciousness. It's very important to cover the trap in order to calm their nerves. You can count on Hudson Valley Wildlife to conduct a humane squirrel removal in Upstate New York.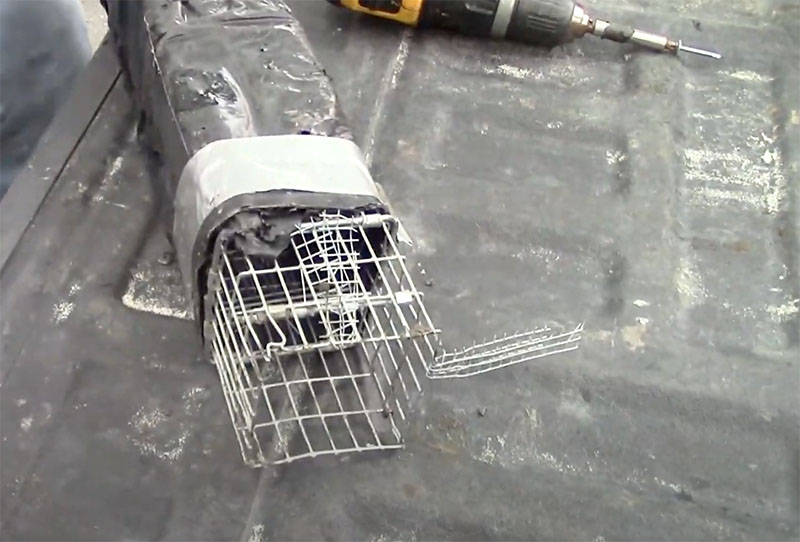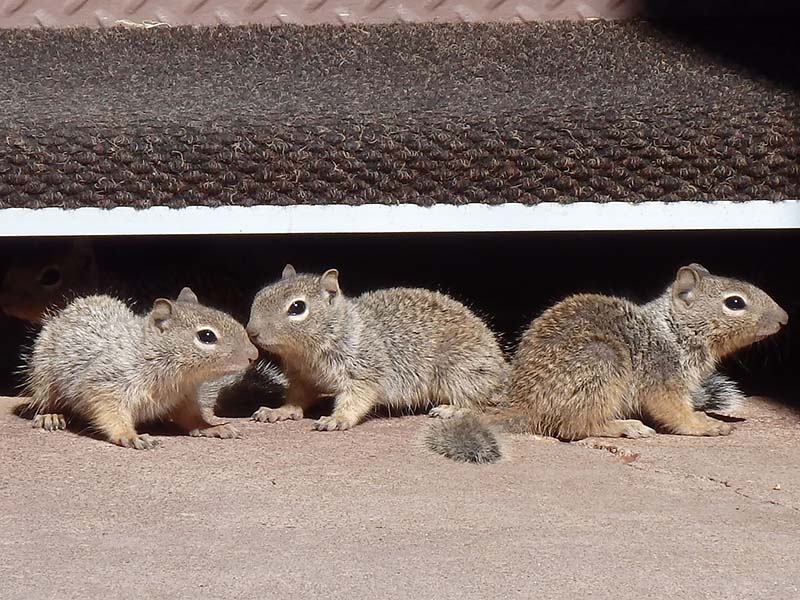 In the spring and summer, squirrels may have young offspring with them. We make sure to thoroughly inspect the site of the infestation to ensure that no baby squirrels are left behind. When we trap a female squirrel, we look at its belly to see whether the nipples are swollen, which would mean that it was nursing. This squirrel did not appear to be nursing, so we surmised that she was in the process of making a nest for future offspring.
We removed the trap and safely released the squirrel back into the wild, following all New York State wildlife guidelines. We then reattached the trap to the building until we were certain that all the squirrels had been vacated. We were then able to permanently seal and repair the entry point so no more squirrels could return to the area, and the exterior had its historic beauty restored.
Think you might have a squirrel problem? Contact Hudson Valley Wildlife Solutions today for an inspection.
Albany, Athens, Averill Park, Ballston Spa, Ballston Lake, Bearsville, Berlin, Brunswick, Cairo, Canaan, Castleton-On-Hudson, Catskill, Clifton Park, Cohoes, Colonie, Copake Falls, Craryville, Delmar, East Greenbush, Elizaville, Freehold, Gallatinville, Germantown, Ghent, Glenmont, Glenville, Halfmoon, Hannacroix, Hillsdale, Hudson, Hyde Park, Latham, Loudonville, Malta, Mechanicville, Milan, Nassau, Niskayuna, Old Chatham, Poestenkill, Ravena, Rensselaer, Red Hook, Rhinebeck, Rotterdam, Saratoga Springs, Saugerties, Schenectady, Scotia, Selkirk, Slingerlands, Tivoli, Troy, Waterford, West Sand Lake, Windham, Woodstock, Wynantskill
Let us help. Contact Hudson Valley Wildlife Solutions today!