Squirrel Removal Solutions in Woodstock, NY
Need help with a wildlife emergency? Call us 24/7 at

518-512-0400

.
In the foothills of the Catskill mountains, the charming town of Woodstock is covered with hardwood forests and crossed by flowing streams. This environment is an ideal home for many species of squirrels native to Upstate New York. If you live in Woodstock, or nearby in another Ulster County town, it is very likely that an unwanted squirrel will creep into your eaves or attic from time to time. It is important to remove any wanton squirrels and prevent their return before a colony moves in and creates significant damage within your home.
At Hudson Valley Wildlife Solutions, we are experts at finding every possible entry point a squirrel might use to get into your home. We will be sure to seal them off permanently and provide you with a multiple-year guarantee. No matter the species of squirrel, we will find, remove, and relocate them to a better home in a new area.
How Hudson Valley Wildlife Solutions Prevents Squirrel Infestations
We start with a thorough inspection of your home
to find any potential entry points for squirrels, including your attic and chimney. Flying squirrels can squeeze through entrances as small as six millimeters, or about a quarter of an inch. We identify the primary entry point, close all the others, and then set up a humane one-way trap over the remaining point. We return to remove the squirrels and move them to a new home, far from your house. Once we are certain that the animals are all gone, we close the final entry point and guarantee that your home will be squirrel-free for years to come.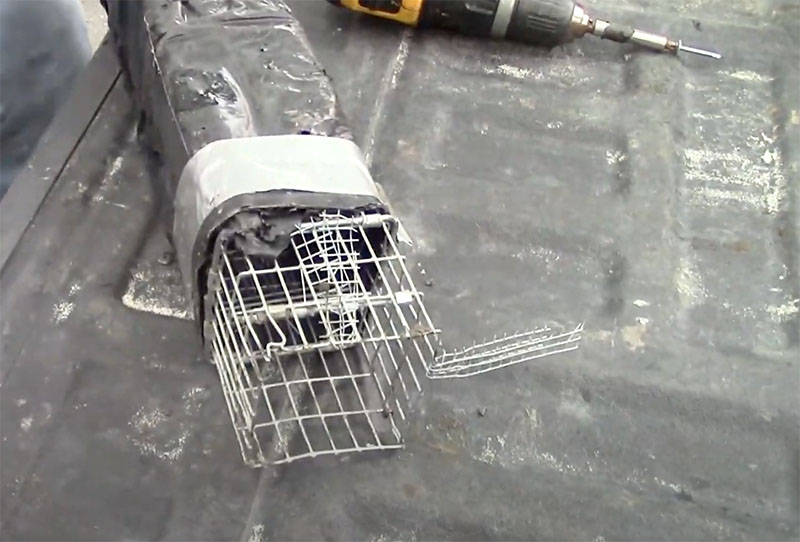 A one-way trap like this gets attached over the squirrel's primary entry point.
Species of Squirrels Native to Woodstock, NY
Squirrels are part of
the Sciuridae family of rodents
, a large group containing many different species. The family includes tree squirrels, such as gray, red, and fox; flying squirrels; chipmunks; and even larger rodents like woodchucks and prairie dogs. Not all these species appear in New York, but several do. Each species exhibits different behaviors, so it is helpful to recognize the differences.
The Eastern Gray Squirrel is native to North America and can be spotted throughout New York State, especially in forested areas like Woodstock. Their fur can be many different shades of gray, and mixed with yellow-to-reddish brown. Gray squirrels are scatter-hoarders, which means that they store their food in many small caches to retrieve later. Researchers estimate that each squirrel makes several thousand caches per season!
Gray squirrels tend to create nests within the attic or exterior walls of a house, seeking shelter from harsh weather conditions. As rodents, they love to chew as often as possible to keep their teeth sharp. They will chew through electrical wires, which can create serious fire hazards in your home. Perhaps worse, squirrel waste in your attic can carry parasites and diseases, or even provide a breeding ground for mold and mildew. Protect your home and your family by ensuring nearby gray squirrels are unable to enter your house.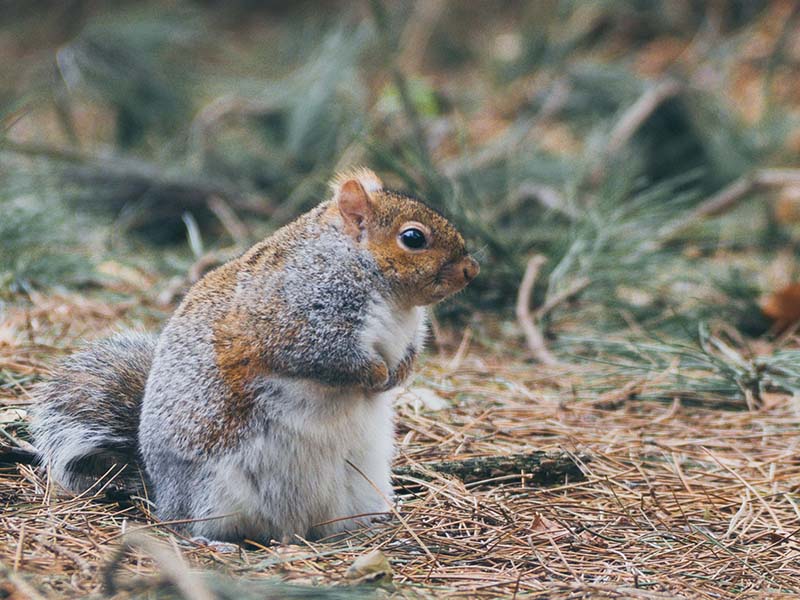 If you see a black, or melanistic, squirrel, it is almost always
an Eastern Gray Squirrel that has an increased amount of melanin pigment
in its skin and fur. The genes are passed down through reproduction, so in the same nest of squirrels, some could be black and some could be gray. Squirrels are not supposed to be melanistic, because black fur stands out in the wild and makes them an easier target for predators. Gray and red squirrels have a natural camouflage: their fur blends in with the grays and browns found in nature. Black squirrels do not have this advantage and are more likely to be hunted.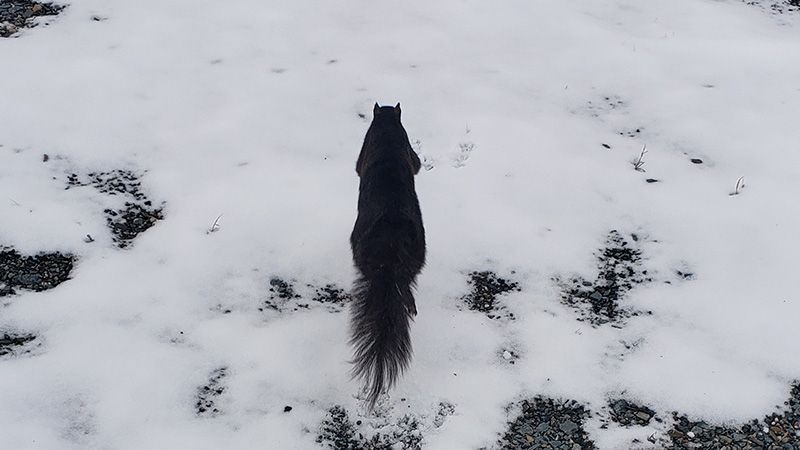 Black squirrel sightings are a rare appearance in rural areas like Woodstock, New York. They tend to appear when there are few predators in an area. For example, New York City has a higher rate of melanistic squirrels in the local population. Black squirrels may also be a sign that there is an overpopulation of the species, due to a lack of predators. When squirrels are overpopulated, there is more competition for nesting areas, so they may be more likely to make a nest inside your home. If you see a black squirrel, that is a sure sign to make sure your home is squirrel-proof.
We wrap our one-way traps in black plastic to keep the squirrels warm and keep water out. Black squirrels will blend in with the plastic, so sometimes they surprise us when we inspect the traps!
There are
two species of flying squirrels that can be found in Upstate New York
The northern flying squirrel is more prevalent north of the Mohawk River Valley, and the southern flying squirrel is more common in the Hudson Valley region. Flying squirrels are nocturnal and glide down from the treetops at night to feed off the forest floor. They are social creatures, living in colonies of 6-8 and nesting with up to 20 other flying squirrels to keep warm in the winter.
Flying squirrels will jump from nearby tree branches onto your house's exterior and find a way in. They also love to chew and can cause significant damage to your home. Flying squirrels can chew through wires, fascia boards, insulation, and drywall, and you might even find gnaw marks in PVC pipes. Their waste can seep through insulation and create brown stains on your ceilings and walls. Flying squirrels are also known to carry parasites and a form of typhus that gives flu-like symptoms. Keep your home clean and safe by ensuring that flying squirrels cannot get inside.
Are you concerned about squirrels finding a home in your house? Contact Hudson Valley Wildlife Solutions today to set up a home inspection.
Albany, Athens, Averill Park, Ballston Spa, Ballston Lake, Bearsville, Berlin, Brunswick, Cairo, Canaan, Castleton-On-Hudson, Catskill, Clifton Park, Cohoes, Colonie, Copake Falls, Craryville, Delmar, East Greenbush, Elizaville, Freehold, Gallatinville, Germantown, Ghent, Glenmont, Glenville, Halfmoon, Hannacroix, Hillsdale, Hudson, Hyde Park, Latham, Loudonville, Malta, Mechanicville, Milan, Nassau, Niskayuna, Old Chatham, Poestenkill, Ravena, Rensselaer, Red Hook, Rhinebeck, Rotterdam, Saratoga Springs, Saugerties, Schenectady, Scotia, Selkirk, Slingerlands, Tivoli, Troy, Waterford, West Sand Lake, Windham, Woodstock, Wynantskill
Let us help. Contact Hudson Valley Wildlife Solutions today!