Flying Squirrel Removal and Home Repair in Saugerties, NY
If you think you have a flying squirrel problem in your home, the removal process can become more complicated than you might expect. Nuisance wildlife solutions should involve more than simply trapping and removing the animals. You must inspect the entire house for all potential entry points, and then seal those points to prevent wildlife from returning. Save time and money by hiring experienced professionals to get the job done right.
At Hudson Valley Wildlife Solutions, we are experienced technicians who have developed efficient methods for removing wild animals. We guarantee our wildlife removal services and house repairs so you can have peace of mind.
We were recently hired to inspect a family's vacation home in Saugerties, NY, at the foot of the beautiful Catskill mountains. When the homeowners returned to the house after a winter away, they noticed some damage and fecal matter on the house's exterior. We could tell the home was left vacant for a very long time from the weeds growing in the gutter! A large family of flying squirrels had nested in the home's attic through the winter. We needed to take action immediately to prevent further damage to the house.
Signs You Might Have Flying Squirrels In Your Home
Flying squirrels view your house as one big tree. Like other species of squirrels, they can feel ventilation leaving the house through attic vents or around the edges of the roof. The moving air guides them to a potential entry point. Most squirrels will begin chewing on the screen or other softer materials surrounding the vent. If they create an entry point, they will likely make a nest inside. Otherwise, flying squirrels will not chew open a hole to get into your house. They will only enter homes through a pre-existing hole that is large enough for them to fit inside. Once inside, however, they do tend to gnaw on wires, boards, insulation, and drywall, creating significant damage.
When we conducted our first inspection of the house in Saugerties, we found several potential entry points. The main entry point for the flying squirrels was where two sections of roof intersected on the outside of the house. The carpenters did not make the lower roof's edge flush with the siding, so a small hole was left behind, large enough for flying squirrels. We also found a latrine area in the attic vents alongside the house's gutters. If we did not address the infestation, the accumulation of urine would cause permanent damage to the house's siding. This could also attract predators of flying squirrels, such as raccoons. The size of the latrine implied a large colony inside this home. Flying squirrels will nest with up to twenty others to keep warm. These homeowners called us just in time!
How to Remove Flying Squirrels and Prevent Their Return
Our first order of business when we arrived in Saugerties was finding every entry point for the flying squirrels. We installed a chimney cap to keep squirrels out, and we closed every hole larger than six millimeters (about a quarter of an inch) with metal screens and spray foam. Flying squirrels are one of the less aggressive species of nuisance wildlife, and they will not chew through foam enhanced with metal screening.
We of course did leave one entry point open, so we could trap the flying squirrels as they exited the house. We set up our one-way trap at the main entry point, under the roof so the flying squirrels would have shade from the sun and not be too alarmed by the trap. On our next visit, we checked the trap for flying squirrels and removed them to a new home. Assured that all flying squirrels had exited the house, we then removed the temporary screen coverings and permanently sealed the entry points with custom-cut pieces of aluminum.
At Hudson Valley Wildlife, we arrive at every job with an extensive toolset, to be ready for a variety of repairs that we might encounter. Most attic vents are screened with nylon, which squirrels can chew through easily. We cut more durable metal screening to fit each attic vent instead. With a set of screws and washers that fit perfectly into the holes in the screen, we are able to secure the entry points. Our toolset also includes a screw gun with a magnetic extension, so it doesn't fall off when we're on the ladder, a foam gun, sealant, tape measure, snips to cut the screen, and a caulk gun for holes.
Some areas of your home will need a permanent fix with a more professional look than screening, like openings along fascia boards. For these repairs, we cut aluminum on-site to cover the entry point and seal it shut. We measure out the metal and perforate it with a razor blade, so we can snap it right off the roll. On the Saugerties house, we used white aluminum that matched the white trim, to ensure that our repairs blended into the house design.
Repairing a home's exterior can be especially hazardous at times. The angled roof on this house created many entry points where the fascia boards were not flush with the siding. In a couple of spots, we had to reach over the edge of the roof to attach the screen underneath it. Coupled with the hot sun on your back, this can be a challenging environment for inexperienced workers. (Something not found in our toolkit is a fear of heights!) In other words, do not try this at home. Instead, contact the professionals at Hudson Valley Wildlife today for thorough, guaranteed wildlife removal solutions.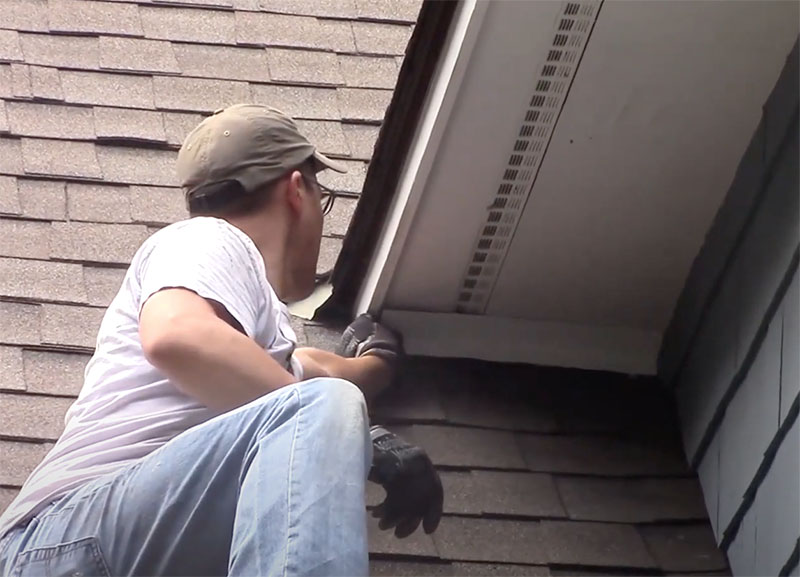 Think you might have a squirrel problem? Contact Hudson Valley Wildlife Solutions today for an inspection.
Albany, Athens, Averill Park, Ballston Spa, Ballston Lake, Bearsville, Berlin, Brunswick, Cairo, Canaan, Castleton-On-Hudson, Catskill, Clifton Park, Cohoes, Colonie, Copake Falls, Craryville, Delmar, East Greenbush, Elizaville, Freehold, Gallatinville, Germantown, Ghent, Glenmont, Glenville, Halfmoon, Hannacroix, Hillsdale, Hudson, Hyde Park, Latham, Loudonville, Malta, Mechanicville, Milan, Nassau, Niskayuna, Old Chatham, Poestenkill, Ravena, Rensselaer, Red Hook, Rhinebeck, Rotterdam, Saratoga Springs, Saugerties, Schenectady, Scotia, Selkirk, Slingerlands, Tivoli, Troy, Waterford, West Sand Lake, Windham, Woodstock, Wynantskill
Let us help. Contact Hudson Valley Wildlife Solutions today!