Squirrel Removal in Albany, NY: Capitol Region's Squirrel Control Specialist
At Hudson Valley Wildlife Solutions, squirrel removal in Albany, NY is what we do best.  We understand the nature of squirrels in this city in order to control and seal them out of your house or place of business. Whether they are in your attic or chewing on your soffits, we have trained professional ready to get rid of them!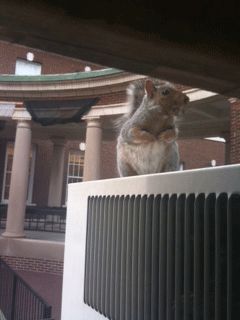 Why are squirrels prevalent in Albany?
Squirrels in Albany have limitless amount of food resources ranging from bird feeders, natural nut trees and even your garbage. They are considered opportunistic omnivores, meaning that they will eat just about anything that is easily available to them. With many acorn and walnut trees also scattered throughout Albany, it won't take long for them to save up enough food for many winters to come.
How do squirrels get into my attic?
Squirrels in Albany have learned how to gain access to your home within multiple areas. All it takes is a passage of warm flowing air. For an example, houses, tend to have attic vents in order to ventilate air throughout the building. As this air emits outside, squirrels will take notice of the attic vent as a corridor and will eventually chew through it because it is much warmer and dryer than spending the entire winter in a tree.
What will happen if I do nothing?
Once squirrel establish their nesting site inside your attic, noise levels and activity will soon start to increse rapidly. If a female squirrel entered your attic, all neighboring male squirrels will infestigate your attic for the female and want to mate with her during the breeding season. Squirrels will often create a latrine therefore it is important to clean it up before it continues to lead male squirrels into your attic.
How do I remove squirrels from my attic in Albany, NY
Squirrels infestations should not be taken lightly because they can easily find weak spots within your home and will increase their population within a season. Call us any time at Hudson Valley Wildlife Solutions to schedule an estimate to solve your squirrel problem. Our trained technicians will be able to trap them all out and seal any vulnerable points, in which squirrel can access into your attic. Toll free: 855-767-2287.
Albany, Athens, Averill Park, Ballston Spa, Ballston Lake, Bearsville, Berlin, Brunswick, Cairo, Canaan, Castleton-On-Hudson, Catskill, Clifton Park, Cohoes, Colonie, Copake Falls, Craryville, Delmar, East Greenbush, Elizaville, Freehold, Gallatinville, Germantown, Ghent, Glenmont, Glenville, Halfmoon, Hannacroix, Hillsdale, Hudson, Hyde Park, Latham, Loudonville, Malta, Mechanicville, Milan, Nassau, Niskayuna, Old Chatham, Poestenkill, Ravena, Rensselaer, Red Hook, Rhinebeck, Rotterdam, Saratoga Springs, Saugerties, Schenectady, Scotia, Selkirk, Slingerlands, Tivoli, Troy, Waterford, West Sand Lake, Windham, Woodstock, Wynantskill
Let us help. Contact Hudson Valley Wildlife Solutions today!