Get Rid of Squirrels in the Attic! Albany, NY
Squirrels tend to create nests in attics because of the comfortable insulation and the dry conditions, especially during the winter. They locate the attics through any sort of attic ventilation. Within the attic, they create a latrine and a nesting area where they sleep and store food.
Attics need to breathe to allow air flow throughout the house. Once squirrels identify that there is an air passage leading into your house, they will find anyway necessary to climb up into the attic. They can use the gutter spout or even jump off from overhanging trees to gain access into your attic. From there, the squirrels chew straight through the nylon bug screening that is preinstalled with attic vents, they eventually start nesting inside your attic.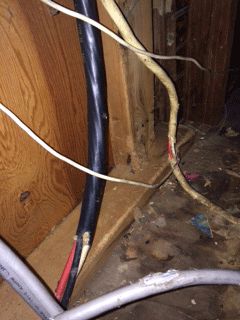 The dry and warm temperature inside the attic is optimal for squirrel nesting. If they are relaxed and willing to stay, there is potential for them to chew your rafters or even electrical wiring. This may cause a circuit shortage or in rare but worst case scenario, fire. The reasoning squirrel chew on wires or wood is because they are born with one set of teeth. Throughout their life, they need to maintain the length of their teeth by chewing in order to prevent it from over growing.
Once they have established an nesting area inside of your attic, they will create a bedding area, latrine and a place to cache extra organic food they find from outside. Latrines will destroy your attic insulation by soaking up the urine and shrinking it, eventually reduce the integrity of the material. Overtime, if a trapping service is not provided, thousand of dollars worth of damage will be cause by the squirrels.
You can understand why squirrels would perfer your attic than a cold and wet hole in a tree. They are very accessible from the outside, dry and warm during the winter and provide enough area for them to nest, food caching and latrines. Be sure to contact us today for an inspection to get rid of the squirrels in your attic!
Albany, Athens, Averill Park, Ballston Spa, Ballston Lake, Bearsville, Berlin, Brunswick, Cairo, Canaan, Castleton-On-Hudson, Catskill, Clifton Park, Cohoes, Colonie, Copake Falls, Craryville, Delmar, East Greenbush, Elizaville, Freehold, Gallatinville, Germantown, Ghent, Glenmont, Glenville, Halfmoon, Hannacroix, Hillsdale, Hudson, Hyde Park, Latham, Loudonville, Malta, Mechanicville, Milan, Nassau, Niskayuna, Old Chatham, Poestenkill, Ravena, Rensselaer, Red Hook, Rhinebeck, Rotterdam, Saratoga Springs, Saugerties, Schenectady, Scotia, Selkirk, Slingerlands, Tivoli, Troy, Waterford, West Sand Lake, Windham, Woodstock, Wynantskill
Let us help. Contact Hudson Valley Wildlife Solutions today!