A Successful, Humane Squirrel Removal in Niskayuna, NY
If you want a squirrel-free home, it is not enough to simply remove the wildlife from within your house. For an effective squirrel control solution, you must also ensure all potential entry points are properly repaired to prevent re-entry. At Hudson Valley Wildlife, we offer humane squirrel removal services and permanent entry point repair, so you can rest easy knowing that your problem will be solved correctly the first time. Here is an example of how we successfully removed squirrels from the attic of this home in Niskayuna, New York.
Gray squirrels are common throughout the Capital Region of New York.
Squirrel Infestations Are Common in Niskayuna and Similar Areas
Suburban residential neighborhoods like Niskayuna tend to have many native squirrels in the area, due to the abundance of trees around the houses. Compared to the nearby city of Schenectady, there is a greater need for squirrel removal services in Niskayuna. It is important to ensure that the squirrel control company you choose not only removes the animals but also provides permanent repairs that prevent their re-entry into your home.
The owners of this house began to suspect that they had squirrels in their attic when they started to hear chewing noises and skittering sounds inside their home. When they discovered this squirrel problem, they called Hudson Valley Wildlife to inspect their home for potential entry points and provide effective squirrel removal options.
Squirrel Problem Signs and Potential Hazards
When we arrived in Niskayuna to inspect the house, we quickly discovered the primary point of entry for the squirrels in the attic. These squirrels had chewed a large hole through the screen around the roof vent and then used the ventilation to enter and exit the home. While these screens are designed to protect your home from wildlife infestations, they do not always stand up to the aggressive chewing behavior of animals like squirrels.
This chewing behavior can be a big problem for homeowners because squirrels are notoriously known to chew through electrical wiring, which is both a financial drain and a fire hazard. The smell of the squirrels in the attic can also make the infestation worse. The odor not only attracts other squirrels but also predators like raccoons, who are known to kill and eat squirrels then take over their home within the walls. To prevent a raccoon infestation in this home, we took multiple steps to ensure the squirrel removal would last.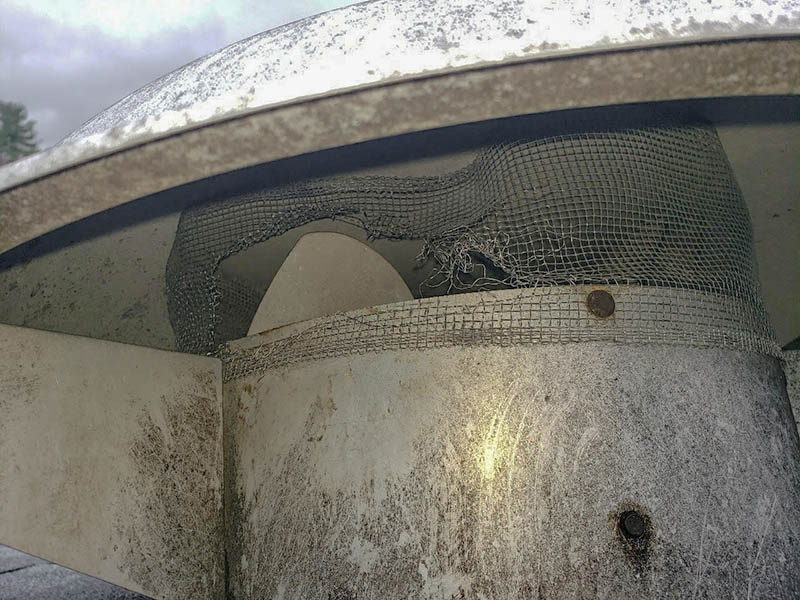 The squirrels chewed this hole in the mesh covering the roof vent.
Humane Squirrel Removal and Control Solutions
Just as every house is different, every squirrel removal job requires a different solution. Our next step after discovering the chewed-up roof vent was to check the remainder of the house for any secondary entry points that may have been used by the squirrels, such as other holes in the roof or siding. Once we were sure that the squirrels could not enter or exit the house from anywhere other than the main entry point, the roof vent, we were able to create a "forced capture" situation.
We installed a trap over the point of entry on the roof vent to trap the squirrels out of the attic. This is called exclusion, which is a more humane alternative to using animal poison or other methods of extermination. For the next several days, we checked the trap for new squirrels and kept the set-up maintained until we were certain that all of the wildlife had exited the home. As certified wildlife technicians, we are trained to safely and humanely handle wild animals like squirrels.
One-way squirrel traps set up outside the entry point.
Where Are Squirrels Brought After Removal?
At Hudson Valley Wildlife, we take an extra step during every squirrel removal job to ensure the wellbeing of the animals after they have been removed from your home. We transfer the squirrels to a nearby protected forest, ideally across a body of water like a river or lake to discourage their return to your neighborhood. For homes in Niskayuna, we typically bring the squirrels across the Mohawk River to an area like the Vischer Ferry Nature and Historic Preserve. The squirrels will be happier in these forests where they are further away from cars and can safely find a new habitat to call home.
Prevent Squirrels from Re-Entering Your Home
Once the squirrels were trapped out of this house and relocated to their new home in the forest, it was time to ensure that new wildlife would not be able to reenter. Squirrels have very high reinfestation rates, so it is critical after a squirrel removal to effectively prevent their return. At Hudson Valley Wildlife, we are equipped with quality materials and tools to prevent wildlife infestations in your home.
Rather than replace the original screen around the roof vent, which could have been chewed through again by squirrels or other wildlife, we installed a more permanent solution. The hard metal roof vent cover we used cannot be chewed open like the screen, so it will be much harder for squirrels to return to the attic.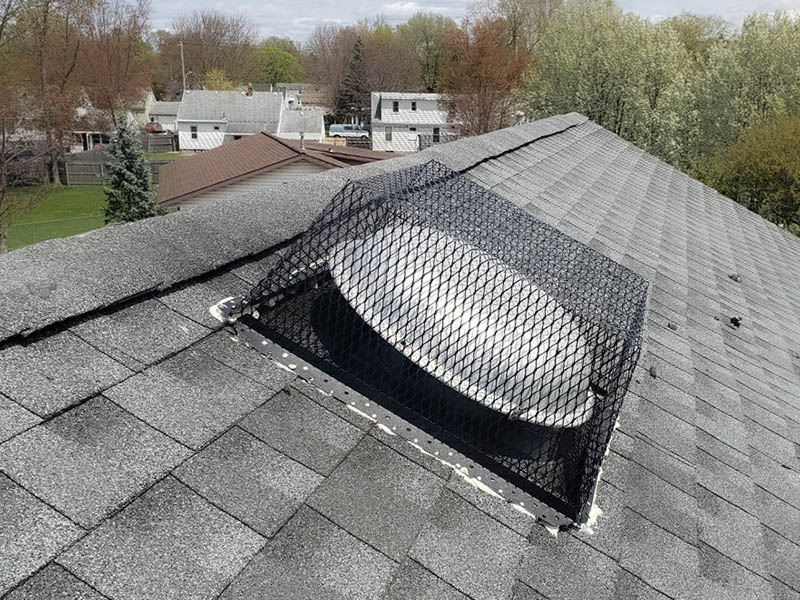 This hard metal grate cannot be chewed open, unlike the previous mesh cover.
If you live in or around Niskayuna and need an effective squirrel removal solution that will last, contact the Capital Region wildlife removal experts at Hudson Valley Wildlife. We are college-educated wildlife professionals who use our degrees in Wildlife Management to offer time-tested solutions for nuisance wildlife management. Contact us today for more information.
Albany, Athens, Averill Park, Ballston Spa, Ballston Lake, Bearsville, Berlin, Brunswick, Cairo, Canaan, Castleton-On-Hudson, Catskill, Clifton Park, Cohoes, Colonie, Copake Falls, Craryville, Delmar, East Greenbush, Elizaville, Freehold, Gallatinville, Germantown, Ghent, Glenmont, Glenville, Halfmoon, Hannacroix, Hillsdale, Hudson, Hyde Park, Latham, Loudonville, Malta, Mechanicville, Milan, Nassau, Niskayuna, Old Chatham, Poestenkill, Ravena, Rensselaer, Red Hook, Rhinebeck, Rotterdam, Saratoga Springs, Saugerties, Schenectady, Scotia, Selkirk, Slingerlands, Tivoli, Troy, Waterford, West Sand Lake, Windham, Woodstock, Wynantskill
Let us help. Contact Hudson Valley Wildlife Solutions today!